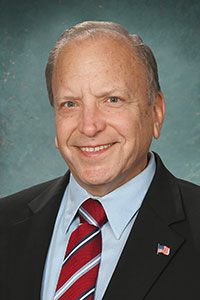 In November 2018, residents of Michigan's 19th Senate District elected Sen. John Bizon, M.D., R-Battle Creek, to the state Senate, representing Barry, Calhoun and Ionia counties. John chairs the Families, Seniors, and Veterans Committee, and he serves on the Energy and Technology, Health Policy and Human Services, and Oversight committees. As a member of the Appropriations Committee, he serves as chair of the Corrections and Judiciary subcommittee, and he is a member of the subcommittees on Community Health/Human Services; Natural Resources and Environment, Great Lakes, and Energy; and Universities and Community Colleges.
Prior to joining the Senate, Bizon served four years in the Michigan House of Representatives, representing the 62nd District.
Dr. Bizon is an otolaryngologist (ear, nose and throat doctor) in Battle Creek who's been in medical practice for more than 40 years. He is a military veteran who served in the U.S. Air Force, eventually obtaining the rank of lieutenant colonel.
John also is a longtime volunteer with the Boy Scouts of America and past president of the Calhoun County Medical Society, and he served as longstanding chair of the legislative committee at the county medical society and on the Battle Creek Health System (now Bronson Battle Creek) medical staff, where he held several medical staff leadership and quality improvement positions. He has served the Michigan State Medical Society in several capacities, culminating in service as president.
Dr. Bizon earned a bachelor's degree from Michigan State University and a medical degree from Wayne State University School of Medicine. His residency took place at the U.S. Air Force Wilford Hall Medical Center in Texas.
John and his wife, Deborah, have been married for 45 years and together have four adult children and six grandchildren. John and Deborah have belonged to the Catholic Church community since childhood, including the Battle Creek St. Philip and St. Joseph churches over the past 24 years.
Senator Bizon can be contacted by clicking here.